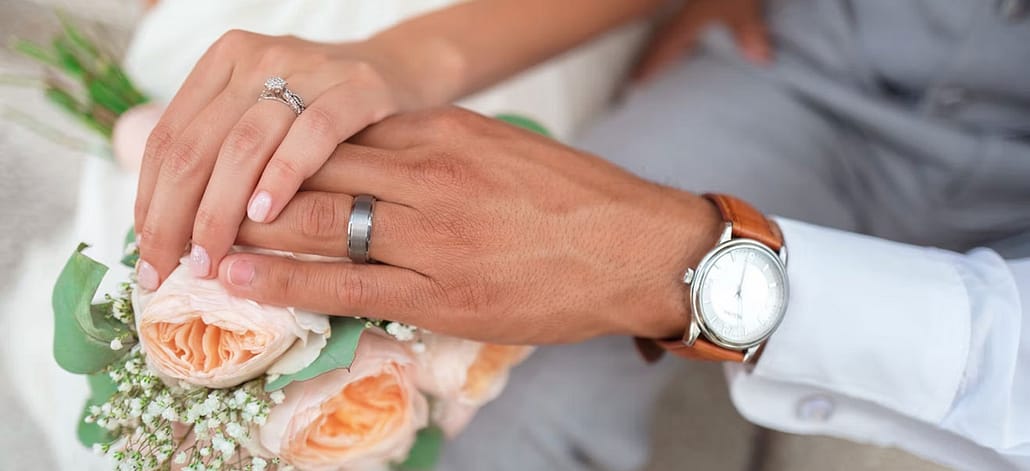 Romantic Tahiti Vow Renewal in Paradise
Are you looking for a location to hold your vow renewal celebration that will knock your socks off in terms of romance while also ensuring your guests have the time of their lives?
If tropical and paradise are two words that come to mind when you think of a vacation destination, Tahiti might be the place for you.
---
Renewal of Wedding Vows
Wedding vow renewal ceremonies have become one more island tradition that many tourists to Tahiti are having to learn about. A traditional Tahitian wedding or vow renewal can be easily arranged with us.
The Tahiti vow renewal ceremonies are well-liked by those celebrating their anniversaries even though they are not legally binding.
Many couples regard it as one of the most exotic and romantic ways to reaffirm their lifelong commitment to one another.
Traditional Tahitian Vow Renewal
Despite the fact that there are many different kinds of ceremonies, a traditional Tahitian vow renewal starts with the bride receiving a calming massage with monoi oil from her Tahitian bridesmaid while being serenaded and decorated with fragrant flowers like a Tahitian princess.
While this is happening, the groom is brought to a motu (a small islet), where he receives a crown made of tropical leaves and temporary tattoos.
The bride dresses up a flower-adorned headpiece and a traditional Tahitian wedding pareu.
Get a Tahitian Name
A priest officiates the renewal of wedding vows in Tahitian, and each couple receives a Tahitian name and a name for their firstborn child.
While the women of the village sing hymns, a Tahitian marriage certificate made of parchment and tapa cloth is presented.
Following the wedding, a couple is frequently taken on a romantic sunset cruise while still being charmed by soft Tahitian music. It's a once-in-a-lifetime memory that can only be had in Tahiti.
Please take note that the information above should only be used as a general reference. Before booking your wedding, we always suggest contacting us for more details.
Pre-travel Vow Renewal Advice
If you are expecting guests, send a 'Save the Date' letter. Send them asap, preferably at least a few months ahead of time. Keep in mind that this is a destination vow renewal, and your guests may be planning a family vacation around it.
Let some things go if you want this destination wedding to be a vacation for you as well. Don't get so caught up in the details that you miss out on enjoying your time in this special place.
Determine what is important to you and label the rest as "small stuff" that you will not sweat. This will free you up to go on an excursion, relax, play, and interact with your guests.
Make sure you arrive on time and allow for any jet lag – no one wants bags under their eyes on their own vow renewal day.
Travel insurance is essential because anything can happen, the most common of which is delayed flights, which may cause you to skip a night's accommodation.
Check that all of your documentation, such as your passport and visa, is up to date. Before the vouchers are sent to you, double-check the wording of your names on your trip invoices.
Examine the expiration dates on all of your credit cards. Contact the credit card company and just let them know when and where you will be traveling.
Nothing is worse than going to have to pay for dinner on your arrival night and being turned down! Write down your insurance policy number; you may even want to copy the policy number and keep it at home as a backup in case you misplace it while traveling.
Overview Tahiti
Tahiti is one of the largest islands in the South Pacific Archipelago. It is part of French Polynesia. Tahiti is shaped like the number 8, and it has two parts: Tahiti Hui, which is the larger part in the west, and Tahiti Iti, which is a peninsula in the east.
The waterfalls, lagoons, black-sand beaches, and two resting volcanoes on Tahiti make it a popular place for honeymooners and vacationers.
The old-fashioned charm of a honeymoon in Tahiti goes well with the luxury that isn't too flashy. Tahiti is also the place where overwater bungalows were first made. The bungalows are a big draw for couples on their honeymoon.
Also, the island of Bora Bora is only 45 minutes by plane from Tahiti. This gives couples even more space to explore, beautiful beaches, sunshine, and romance.
Captain James Cook went to Tahiti in the 1800s, and the French painter Paul Gauguin often painted scenes from the island.
The food in Tahiti is typical of the rest of the Pacific Islands. Sea foods like fafaru, Pahua Taioro and Ma'oa, shrimp in coconut milk, and many others are very popular.
When to go to Tahiti at its best
The best time to go to Tahiti is between May and October. Temperatures are usually warm all year, but there is less humidity in the winter.
In reality, there are only two different seasons in Tahiti. From November to April, which is summer, it is very humid and very hot. The weather is nice and it doesn't rain as much in the winter.
Most of the time, December is the hottest month and has the most rain. No matter what time of year it is, hotel prices here are always on the high side because it is such a great place to go on vacation.
What to do most in Tahiti
If you find yourself in Tahiti, the perfect place for a honeymoon, here are some things you must do:
Go exploring the lagoons in glass kayaks

Snorkel in the Coral Gardens.

Stay in one of the overwater bungalows for sure.

On a Catamaran, you can sail away in happiness.

Rent a seaplane and look at the beautiful view of Tahiti from above.

Rent a stand-up paddle-board and go paddling.

Run into sharks and rays.

Don't miss the sun rising over the Pacific Ocean.

Take a hike up Mount Aorai

Try some of the local food.
Weather Conditions in Tahiti
The weather in Tahiti is warm and mild all year long. During the day, the temperature can range from 24 to 30 degrees Celsius.
The water in the lagoon, which is usually between 23 and 26 degrees Celsius, can help you feel better.
The winds from the northeast and southeast usually cool down the warm, sunny days in Tahiti. These winds also help create two distinct seasons, the rainy season and the dry season.
How to Get to Tahiti
The island of Tahiti is in the middle of the distance from Australia to California.
The international airport for French Polynesia is on the island of Tahiti. It is called Fa'a' International Airport.
Getting to Tahiti by plane will take the following amount of time:
13 hours to Santiago

12 hours in New York
Los Angeles: 8 hours
Honolulu: 5 hours
10 hours to Tokyo
---
Legal Wedding in Tahiti
Tahiti Wedding Packages
Required Tahiti Wedding Documents
Best Tahiti Wedding Planner Explained
How to have a legal wedding in Tahiti
Polynesian Wedding History and Culture